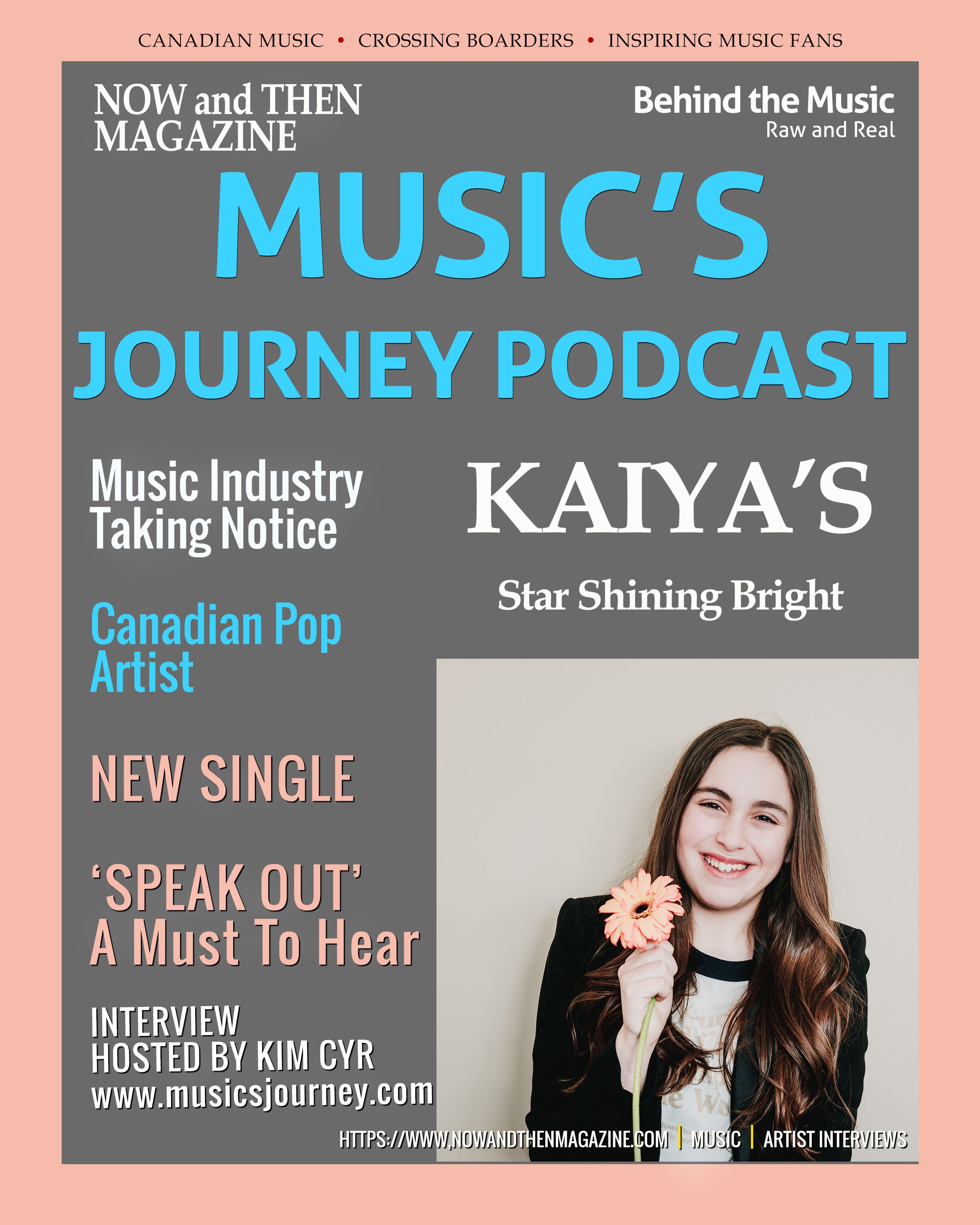 w/ Emerging Pop Artist Singer/Songwriter 'Kaiya' 
Hosted by Kim Cyr 
Presented by NOW and THEN Magazine 
https://www.nowandthenmagazine.com 
  Music's Journey Podcast #86 w/ Powerhouse Pop Artist ''Kaiya'' Listen HERE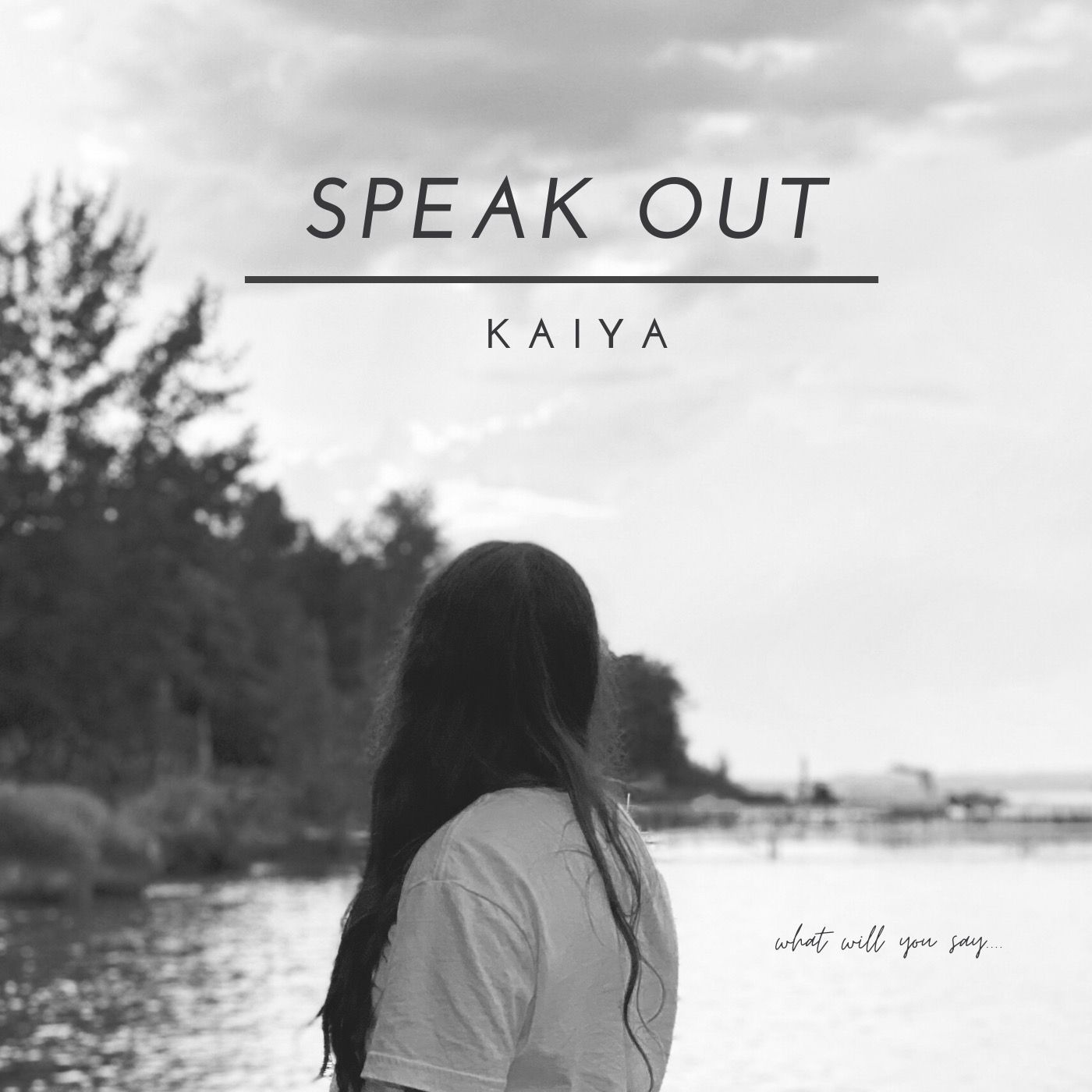 Kaiya 
Debut Single 
 Music's Journey Podcast #86 w/ Powerhouse Pop Artist ''Kaiya'' Listen HERE 
With a deeply soulful voice and wisdom far beyond her years, KAIYA is a pop singer, songwriter, and multi-instrumentalist based in Calgary, Alberta. Her music has been described as a beacon of light, containing an undeniable message of empowerment, positivity, and hope.  
On March 8, 2021 (International Women's Day), KAIYA was honored among the Top 3 in the Women's Freedom Song contest, for her debut single, "Speak Out." The track was released in December of 2020 and premiered on CBC radio. It has since been receiving radio play on several Alberta community and college radio stations.  
KAIYA is an actively philanthropic artist, who regularly performs in support of charitable causes. At only 14 years old, she has already performed for thousands of people, at over 40 high-profile events. In the words of producer Justin Kudding, "Standing for something and reflecting it in your actions aren't always aligned. In KAIYA, however, there's a perfect synergy between belief and action. She is the perfect antidote to a world where young people are typically burdened with far too much for their age. In this atmosphere of unrealistic expectations, pressure to conform, and a lack of genuine connection, KAIYA's music seems to ease the burden of youths as they transition into young adults. It doesn't take an exceptional ability to perceive that KAIYA lives to bring hope and positivity to a demographic that sorely needs it."  
KAIYA's performance highlights include opening for Brett Kissel at the 2018 and 2019 #OMGP (Oh My GardenParty) in support of adolescent mental health. KAIYA performed at Paul Brandt's 2018 Prairie Rowdy Concert in support of the #NotInMyCity initiative, and with Brett Kissel at his 2018 and 2019 Christmas charity concerts in support of veterans, at the Jack Singer Concert Hall in Calgary. KAIYA was the headline event at Hayley Wickenheiser's Wickfest 2019 in Calgary and Wickfest 2020 in BC. In 2019, KAYIA was honored with the Women of Inspiration Youth Excellence Award, for her work in music and philanthropy.  
JUNO award-winning artist, Brett Kissel, upon hearing 'Speak Out' said "I am so excited for KAIYA to take on the world's stage. When I first heard 'Speak Out' I thought I was listening to a 25-year-old artist who has already won 2 Grammys."  
And taking on the world stage she is.  Kaiya, along with JUNO award-winning Brett Kissel's band and Sam Coulson of QUEEN's "We Will Rock You" will be performing "Kaiya Live", a virtual concert event happening in the summer of 2021(postponed-stay tuned).  
2021 will also see new releases from Kaiya as she heads back into OCL studios with producers Justin Kudding and Spencer Cheyne. 
Speak Out, an inspiring soulful pop ballad has a different meaning to everyone that listens, but the same astonishing impact. Written solely by Kaiya, Speak Out comes from the heart.  
From inception to production, the single has been a long time in the works, but at just over 3 minutes 30 seconds, it won't take long for a listener to resonate with the story Kaiya tells.  
Spencer Cheyne (JUNO Award Winning Producer)  
"I am quite inspired by Kaiya. She is an extremely hard-working person and usually, people who are that talented aren't that hard-working and they usually just rely on their talent. What makes Kaiya so special is that she is that talented and she is also working hard which I think is a recipe for success and it is just a matter of time until things happen"  
Brendan Waters  (CCMA Award winner)  
"What excites me about Kaiya is that there are certain things that are really hard to teach, or that you can't experience your way into being good at them. They are a little more innate. She has so much of that. It is fun to be a part of that and work with people like that."  
Hayley Wickenheiser (Multiple Olympic Gold Medalist and soon to be a doctor)  
"Kaiya reminds me of a young Lady Gaga with her power and control."  
''Kaiya is undeniably a force to be reckoned with in the music industry today and for years to come,'' says Kim Cyr, Editor in Chief for NOW and THEN Magazine and host for the International Music's Journey Podcast.  ''There are no words that could possibly be worthy as a description of this young 14 yr old artist and what she is doing and can do.  This is only the be beginning for Kaiya.  She has such a great team of professionals working with her and she will need that with her future as a STAR in this business.  I wrote a personal email to The Ellen Show and The Kelly Clarkson Show because she is just that good.  '' The world got that much brighter in hope, inspiration, and empowerment with this Little Ball Of Dynamite.  Kaiya could walk out and be the most possed young artist ready for any world stage.  I am hoping for the angels to surround her and guide her on this musical journey.'' 
This is an interview you do not want to miss.  Click on the link below  
 Music's Journey Podcast #86 w/ Powerhouse Pop Artist ''Kaiya'' Click HERE
Kaiya - Speak Out (Official Video) 
Kaiya - Sunday Songs and Stuff!! First Episode - My NextFest Piece 2021
 Music's Journey Podcast #86 w/ Powerhouse Pop Artist ''Kaiya'' Listen HERE
SOCIALS:   
https://www.instagram.com/kaiyasmusicrocks/   
https://www.facebook.com/kaiyasmusicrocks/   
https://www.youtube.com/channel/UCEY2kVj39HDn8HDwPQLBOnw   
https://twitter.com/KaiyasMusic